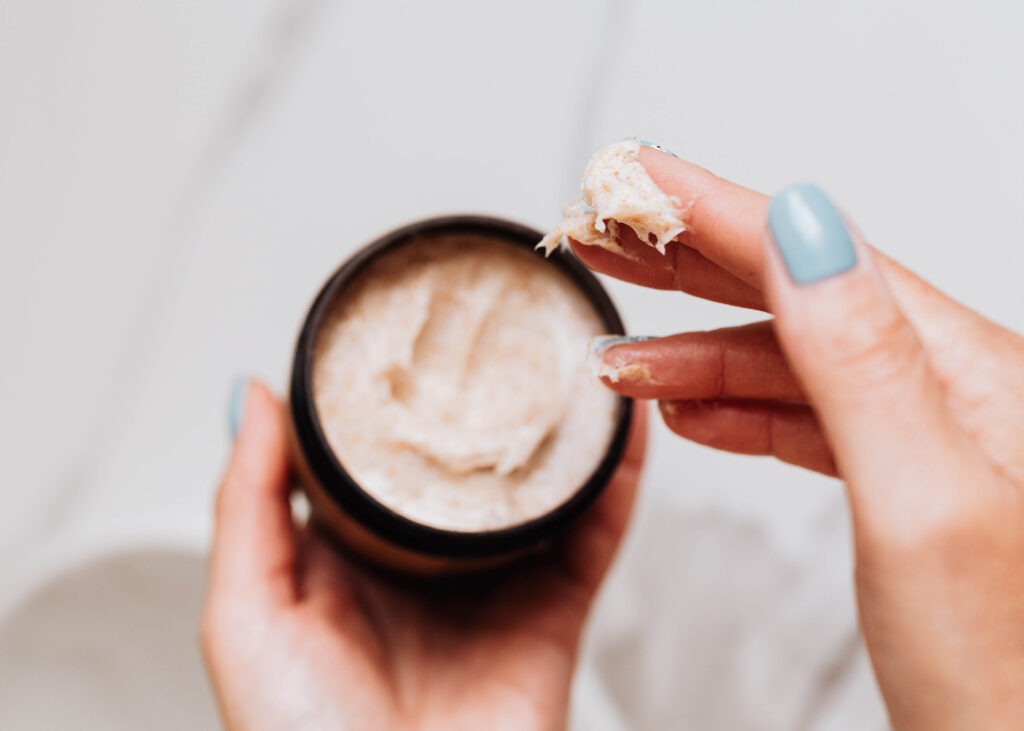 Step 1: Cleanse
First of all, let's get the basics right in order to adopt good habits for a skincare routine that will rise to the occasion with a long-lasting effect. Cleansing is the favorite part of a skincare routine for many people. Taking off all the makeup and the built-up of dirt during the day is one of the most satisfying things I have ever experienced after a long day at work.
Cleanse, take your bra off if you are wearing one, and this is the formula for a relaxing evening that will set you up for whatever life throws your way the next day. Furthermore, for a  reinforced outcome, take a bath with some Epsom salt and thank me later because we all know, life in the time of 2020 is a demanding one and utterly unpredictable, which only leaves us with the option to play the hand we're dealt and keep positive.
Before I digress completely, let's make sure we double cleanse!  Whether we talk about a balm or oil as a first cleanse, a cleansing cream or micellar water, always keep in mind, this is not enough if you had makeup and SPF on. Furthermore, go all over it again with a second cleanse. Whether this is a cleansing gel, cream, balm, or oil this is the actual stage where we clean the skin and not just removing the makeup, the SPF, and the dirt.
Try: Elemis Pro-collagen Cleansing Balm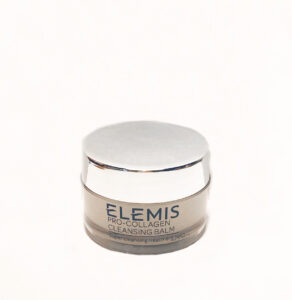 The Body Shop Camomile Cleansing Butter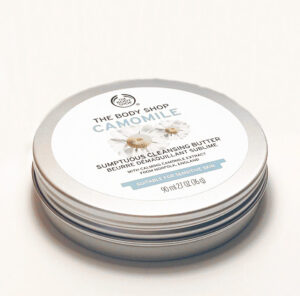 La Roche-Posay Effaclar Micro-Peeling Purifying gel, 2% Salicylic Acid + LHA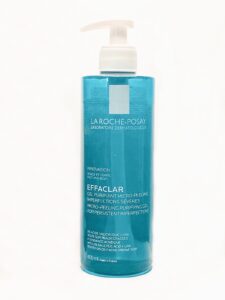 La Roche-Posay Effaclar Purifying foaming gel for oily sensitive skin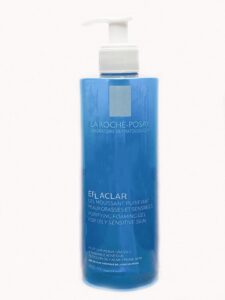 Cerave SA Smoothing Cleanser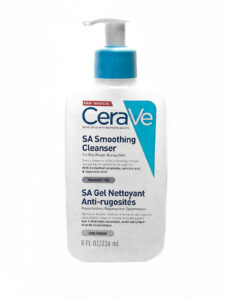 Many people in the skincare industry can't stress enough the importance of a good cleanse, especially when you have invested in a very good quality serum with effective ingredients. It's like splashing on some exquisite perfume just before having a bath.
And let's not even mention the myth – sleeping with the makeup on is acceptable, as there is a high risk of myself making another analogy to the "bath" in order to get the point across.  And I have managed to mention it twice already in the same article! Also, the makeup removing wipes are to be used solely when there is no access to water for whatever reason. If you ask me, double cleanse is "the new black"!
Step 2:   Apply serum/oil
This is the part where to put all your eggs in one basket it's not such a bad idea. You would want to invest in a good serum as this is the treatment for your particular skin condition.
Whether we talk about a serum with peptides for boosting the collagen production and reduce wrinkles; Or a vitamin C serum to promote collagen and elastin production and prevent premature aging; Or one with squalene to calm down the skin and protect; Or hyaluronic acid for hydration; This is the step of the routine that will show you if it was a good match for your skin condition only after the bottle is finished up. As with all skincare products and some other things in life too, consistency is key!
Also, less is more, in this case, one pump or a pipette is sufficient.
 Try: Dr. Jart+ Peptidin Firming Serum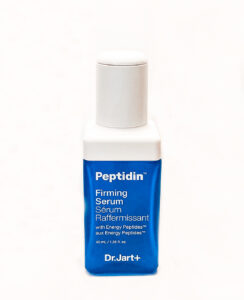 Kate Somerville Vitamin B3 + Vitamin C serum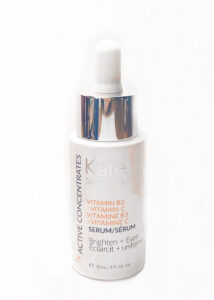 Kate Somerville  Squalane + Hyaluronic serum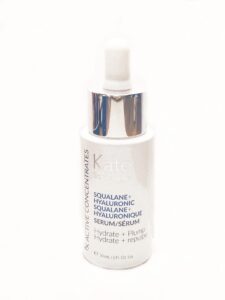 Step 3:  Apply moisturizer
 And when in doubt: moisturize, moisturize, moisturize!
This is the part where we treat the skin type. Whether this is: dry skin, oily skin, normal, or combination one, we do need to moisturize! The key is to find the right one for your skin type. The moisturizer works as a protection for the skin. Oil-free moisturizers are great for oily skin and also widely used during hot weather as their formula is lighter.
Facial mists and sprays can also be used to ensure hydration, especially during the day at work when you can spray it over your makeup and feel instantly hydrated and refreshed.
 Try: Clinique Hydrating jelly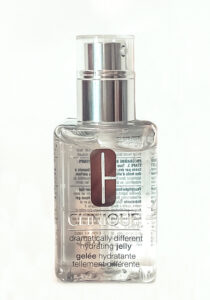 Avène Hydrance Aqua-gel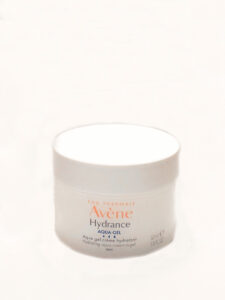 La Roche-Posay Serozinc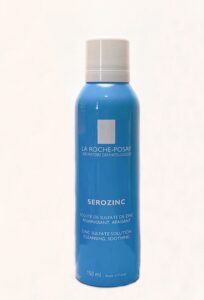 Step 4:  Apply SPF
When it comes to the morning routine, the last step should be the SPF and then makeup.
We have so many myths around the SPF, nevertheless, an important thing to mention would be not to use the SPF instead of a moisturizer. You do need to moisturize first and then apply the SPF. As Caroline Hirons, the author of  " Skincare. The ultimate no-nonsense guide",  a Sunday Times bestseller, says " Do not use an SPF instead of a moisturizer. That's like going out all day with a raincoat on and only bra and knickers underneath."
I wish I was more informed in my twenties when I was applying different oils for tanning and no SPF at all or when I was thinking that the sunbeds are great. Utterly horrifying when I remember it now while checking my melasma in the mirror that shows up without fail every single summer.
As a millennial, I trust science. Research and data is power.
To get the protection from the label, we need 2 milligrams per square centimeter of the area. This is the official recommendation and this is the equivalent of a teaspoon for the face and neck.
There are many moisturizers that have SPF included in the formula. It's not recommended to rely only on that as for maximum protection we do need a high, broad-spectrum SPF (UVA and UVB) cream on top of the moisturizer.
Dr Anjali Mahto, UK Consultant Dermatologist and the author of "The skincare bible: Your no-nonsense guide to great skin'' says "If you are concerned about skin cancer risk and premature skin aging, the best advice would be to wear a separate sunscreen from your moisturizer".
Lower than SPF30 it's not recommended as this is not enough. Doctors urge people to re-apply sunscreen every 2 hours as this is the best way to protect your skin from pigmentation, premature aging, and skin cancer.
Although there are SPF sprays that can be applied over makeup, this is not the best protection as it's not sprayed evenly on the skin surface. It's not ideal but, of course, better than nothing at all.
The SPF loses the properties in time, once opened it doesn't last more than a year.
The SPF and the makeup are formulated to stay on the face which means that in order to remove it we do need an oil-based cleanser. And double cleanse is a must as we have already mentioned in step 1.
The sun is the provider of vitamin D which is so important for our bodies. That's why we don't have to hide from the sun. We just have to remember to protect ourselves!
Dr Anjali Mahto also says that "The best sunscreen is one you like and therefore will use and re-apply as needed."
As with everything in skincare, it takes some time until you find the product that works for you and enjoy using it. I'll spare you another comparison to life at this stage and button-up.
Try:  Avène Cleanance SPF 50+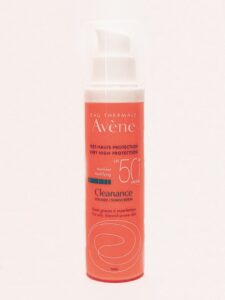 La Roche-Posay Anthelios Tinted fluid SPF 50+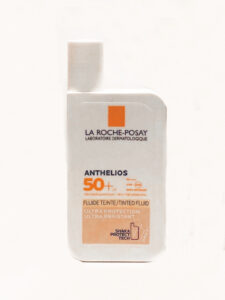 Heliocare Fluid cream Broad spectrum SPF 50+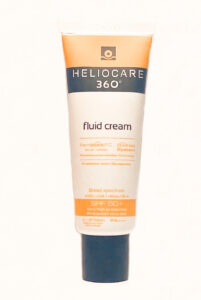 Heliocare Gel oil-free Broad spectrum SPF 50+