Embracing old Hollywood glamour while dealing with massive fame and scrutiny, the 19-year-old singer-songwriter delivers triumphantly a sophomore album that stands on its own cementing her as one of her generation's most important pop artists.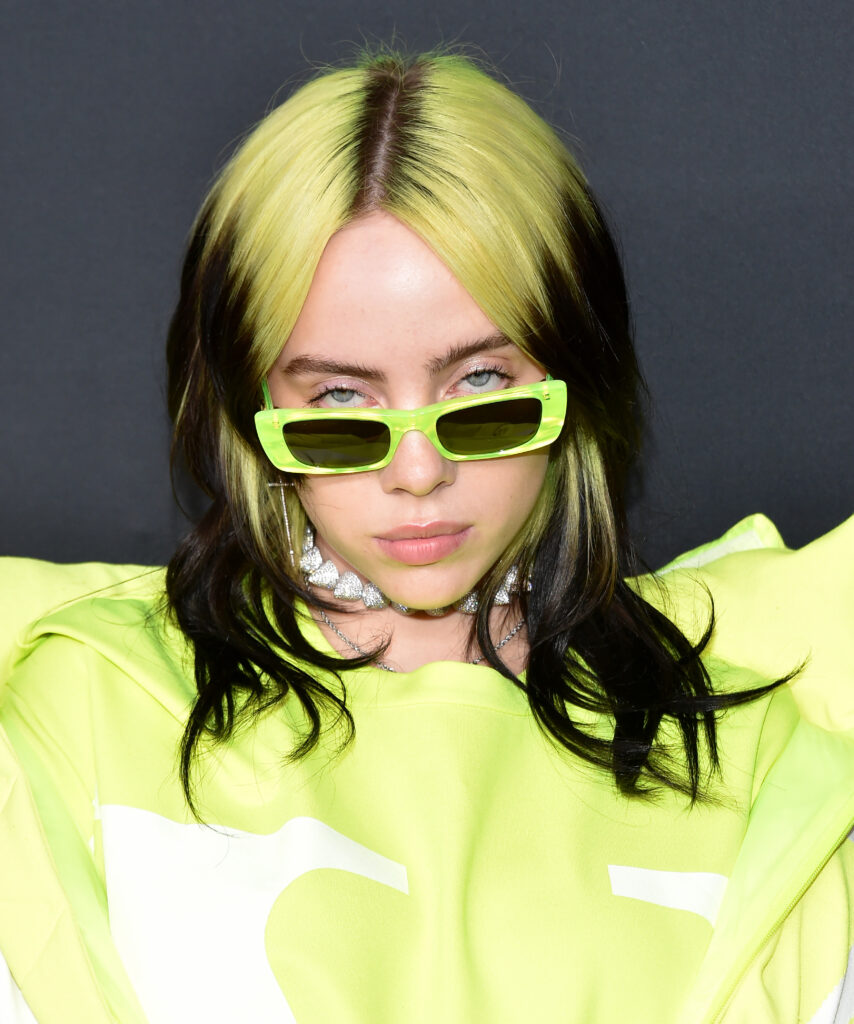 After releasing one of the most groundbreaking debut albums in modern pop culture, Billie Eilish is back with her second studio album "Happier than Ever" where the Grammy-winning singer-songwriter exhibits newfound maturity in a far more personal way. It is the bold and ethereal sound of an artist who palpates triumph in front of shattering expectations, dealing with global fame and scrutiny as a young woman in the public eye.
Billie's debut album "When We All Fall Asleep, Where Do We Go?" has not only transformed her into a world superstar but heavily influenced mainstream pop music. The album depicts teenage traumas with lyrics about forlorn romance, terror, and monsters.  It expands on the malaise in vocals and melodies with massive grim lyrical moments and dark contoured undertones in a tomboy-esque fashion. Eilish writes herself into characters that cross the line between delicate and grotesque. She is the pop star with macabre and noirish esthetics in the "When We All Fall Asleep, Where Do We Go?" melodies that help her navigate depression, and nightmarish lucid dreams. With a breathy and angelic falsetto and a murmured cadence, she soothes the listener into her world from playful trap beats in "Bad Guy" to morose balladry in "Listen before I go".
While in the previous hors d'oeuvre, Eilish opted for a darker electro-pop sound, "Happier than Ever" reveals a conspicuous balance between softer and sharper edges. Rather than exploring the darker extremes and dreadful imageries that propelled her debut album to stardom, Eilish and her multi-instrumentalist brother, Finneas chose subtler melodies that mingle with her vocal maturity while maintaining that distinctive signature sound and experimental spirit delivering without filter the insecurities and unforgiving scrutiny that the singer has experienced while growing and evolving in front of the prying eyes of the entire world. Eilish is brutally honest about her rapid rise to fame, anxiety, and stress in her newfound vulnerability through deep and candid lyrics.
In the opening track of her sophomore album, "Getting Older", Eilish says that she is older and has more on her shoulders. It is an emotionally candid and raw introduction to the "Happier than Ever" album. She is struggling with stalkers and constant attention from the intrusive eyes of the world. Eilish is happier than ever, but she had to crawl through the darkness, trauma, and experience all the facets of the music industry to get here. She is romanticizing about her future self embracing it wholeheartedly. The theme is further explored in "my future" where she explores the optimistic possibilities of the unknown. In a love letter to herself, she is embracing solitude which once caused her distress on "when the party's over". She lifts her wings when the electric piano makes room for drums and tiny guitars in the second part of the song that comes in full force pushing her to fly in an unknown direction.
Eilish has been picked apart by the public for her body shape, and the clothes she is wearing. Nothing that she does goes unseen or uncritiqued. She confronts all the disapprovers and toxic opinions in an effort to get closure in "My Responsibility".
She reflects on the abusers, the ones that take advantage of their authority which comes in different forms and shapes in "Your Power" single. Eilish's haunting and uncomfortable lyrics make you think about the disparity in power between younger women and men in the pop industry.
The singer-songwriter goes on to explore the pitfalls of fame with "NDA" and what it takes to have a personal life in the limelight. She is strangled with what she can and can't do in her life. In "NDA" she informs us about a stalker from her real-life that keeps arriving regularly at her home and sends her threatening letters. The skin-crawling experience is heightened in a wild music video that Eilish produced herself roaming in the middle of the night on a black road surrounded by speeding cars and stalkers hiding behind her back.
The title track "Happier than Ever" starts as a cathartic and gentle ballad accompanied by the singer's soft voice which further on breaks into the full punk rock where Eilish is seen screaming from the top of her lungs "you made me hate this city". Her vocals are vividly accentuated through her rage and dissatisfaction with mistreatment that makes you scream along.
Eilish rises up above all haters in "Therefore I am" an existential and spicy single where she wants to let everyone know that she won't put up with anything that can harm her personal growth establishing her as a self-empowered person. The philosophical phrase "I think therefore I am" once put out by the French philosopher René Descartes grappled with existentialism and if we can truly know if we are real. To be aware and able to process thoughts and ideas proves our existence. Is this what Eilish wanted to convey in her "Therefore I am" single? Possibly. The lyrics are open for interpretation. What it seems that Eilish is doing it is keeping her composure and staying unphased in front of anyone who tries to put her down because of no one else's opinion about her matters. She wants to live her life unapologetically despite criticism. Eilish is profoundly aware of the microscopic lens she has been put under but rather than running away from it, she fights back with an uneasy rage in a confessional lyrical mode.
"Happier than Ever" is not about redefining who Billie Eilish is. It is about embracing self-reflection, personal and musical growth. The album is melodic storytelling of the flip side of superstardom after the massive success Eilish has experienced with her debut album "When We All Fall Asleep, Where Do We Go" which disrupted the world of music. In the sophomore album, the singer explores a version of herself that hasn't been seen before hinting at an artistic growth with more to come.