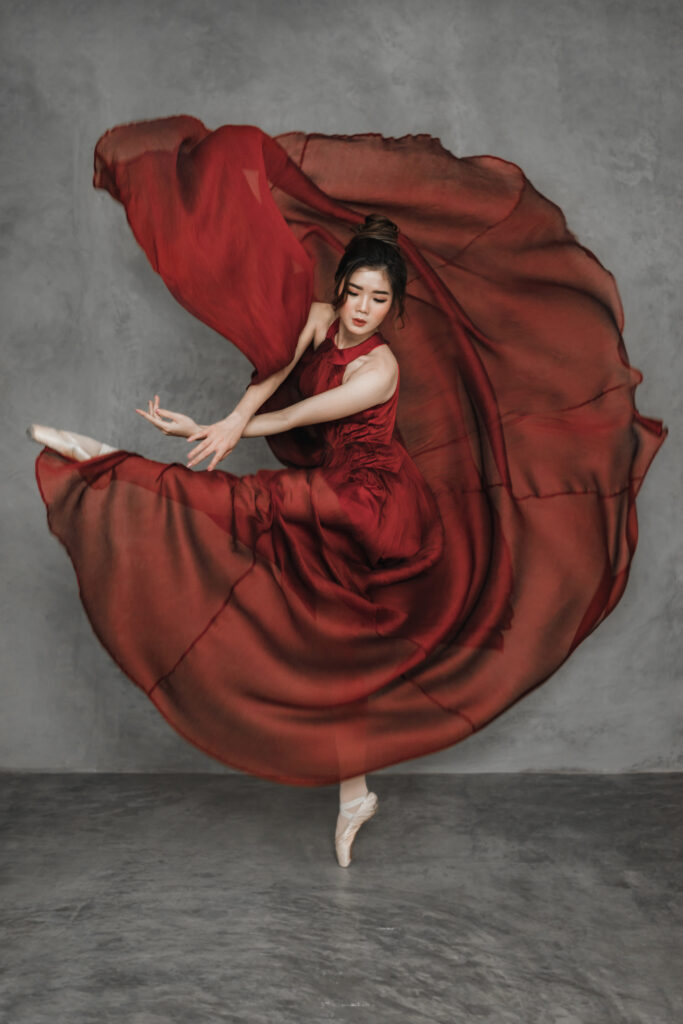 A beautiful spectacle can be achieved through discipline. From fatiguing training schedules to the iconic tutus, Olivia sheds some light on her life as a ballerina.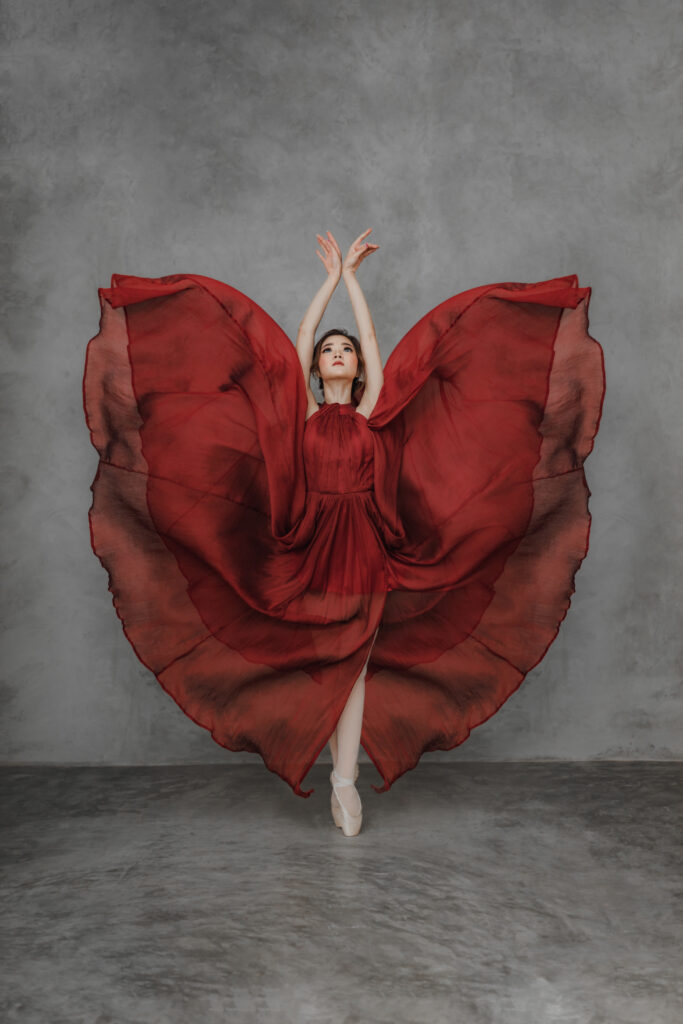 In the world of ballet, beauty and gracefulness are at its core. It is truly magical and exciting and brings a breath of a different form of dimension to the theater. An explosion of emotional exaltation conquers you the moment music starts, and ballerinas start moving synchronously on stage. Looking at those perfect pointe shoes, I can't imagine even for a second how much work and talent stands behind that effortless and flowy performance. Ballet's elegant image comes at a price.
Aside from talent, ballet demands discipline and requires dedication, determination, and perseverance. Olivia Samantha is someone who has such qualities and she revealed her way to the world of ballet.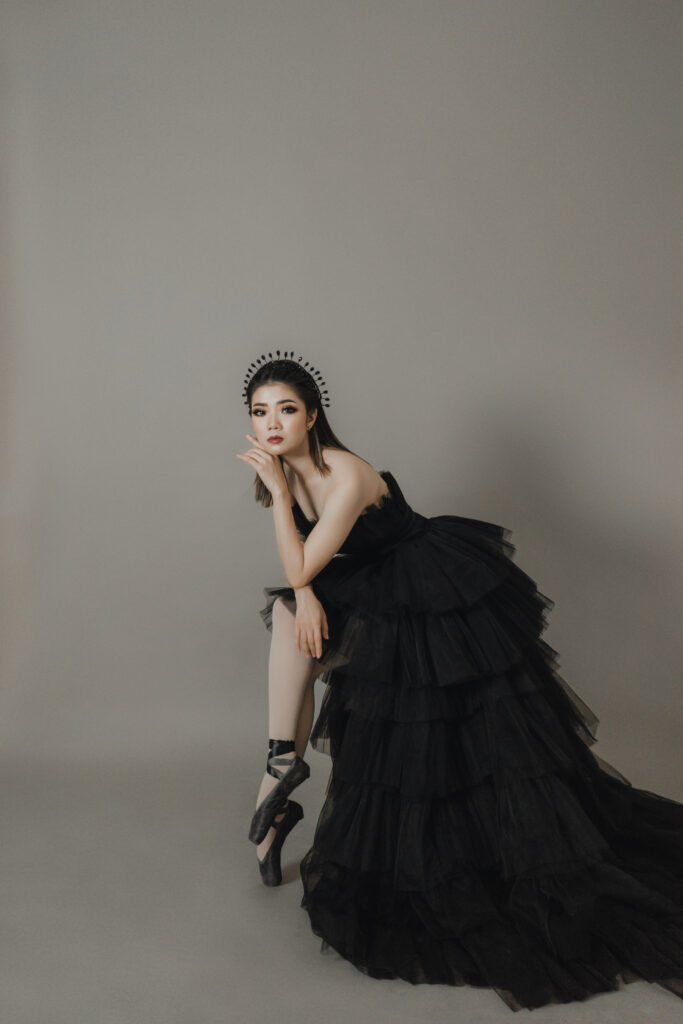 She took her first lesson when she was 4 years old and got a ballet scholarship at Marlupi Dance Academy in Surabaya, Indonesia. She then joined the Royal Academy of Dance and finished it two years ago. "Ballet is a very demanding career, but an extremely rewarding one where you express your feelings and pour them into art once you step into those pointe shoes and put on the tutu dress", says Olivia.
"There is rigorous preparation happening before a performance where you have to practice for 4-6 hours a day", she says.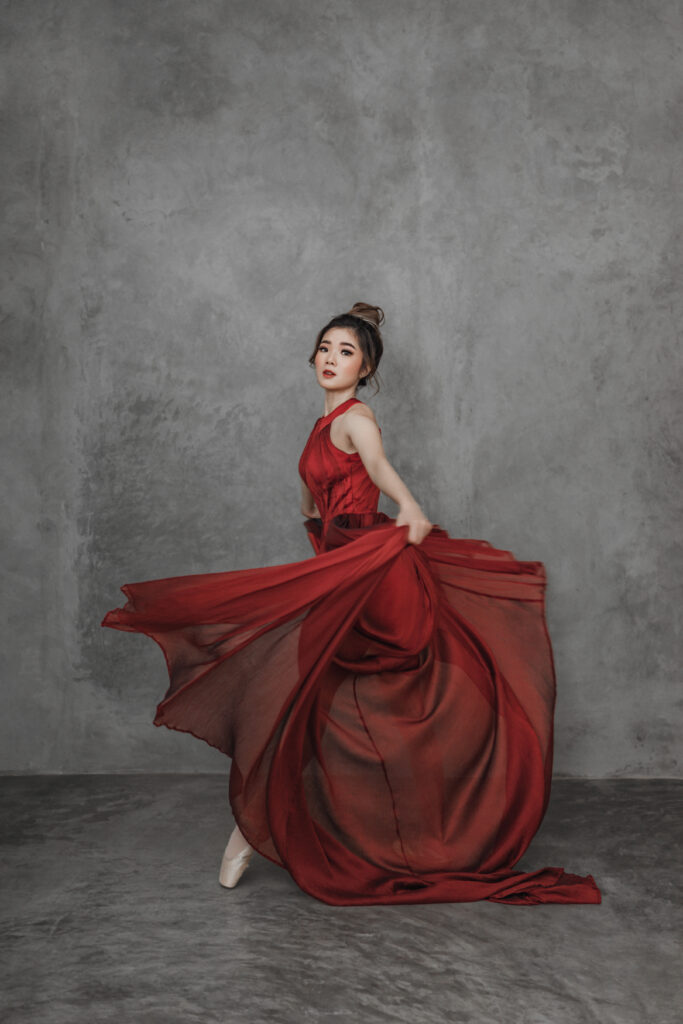 Ballet is not only about practice and schedule. It's not about the hours you spend every single day at the studio or outside of it. "It became a part of me, my second home, a place where I feel myself. When I am dancing, I feel euphoric, free, and peaceful like there is no gravity and no one around, just me and the music. Time can't be put into hours when it's spent dancing. It is a way to destress from things that are happening in everyday life", says Olivia.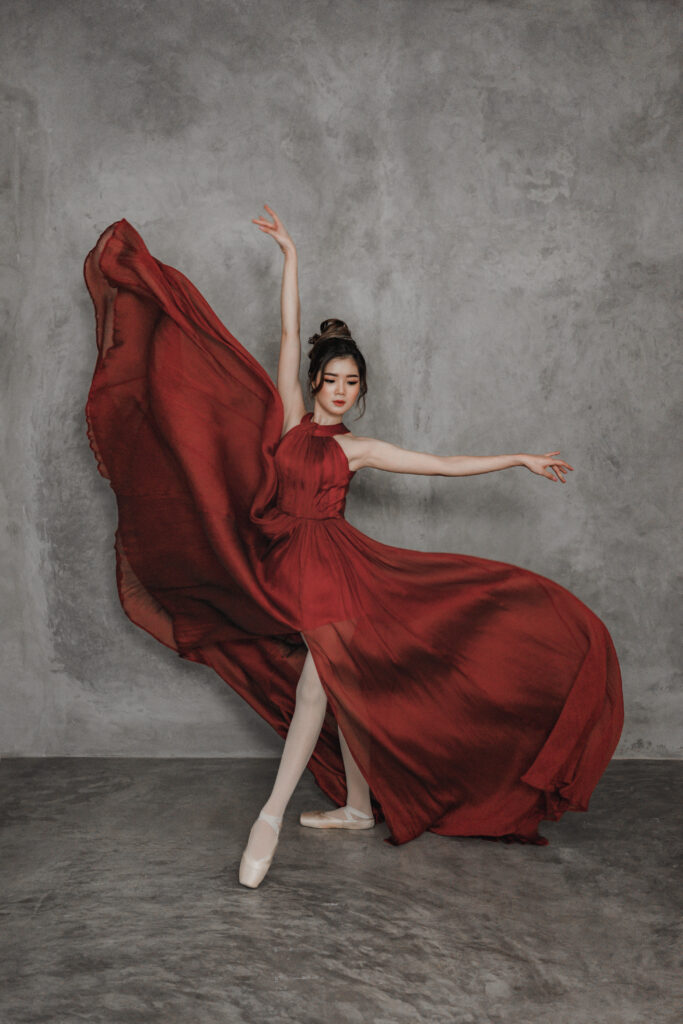 To me, ballerinas are ideals of grace and beauty with an enviably toned physique. The signature costumes – the corseted tutu – and the pointe shoes are indispensable attributes of a ballerina. Wearing tutus or flowy dresses for practice, or during the performance are quintessential. The iconic garments frame ballerina's movements that coalesce with the music, light, and fluid movements of a play.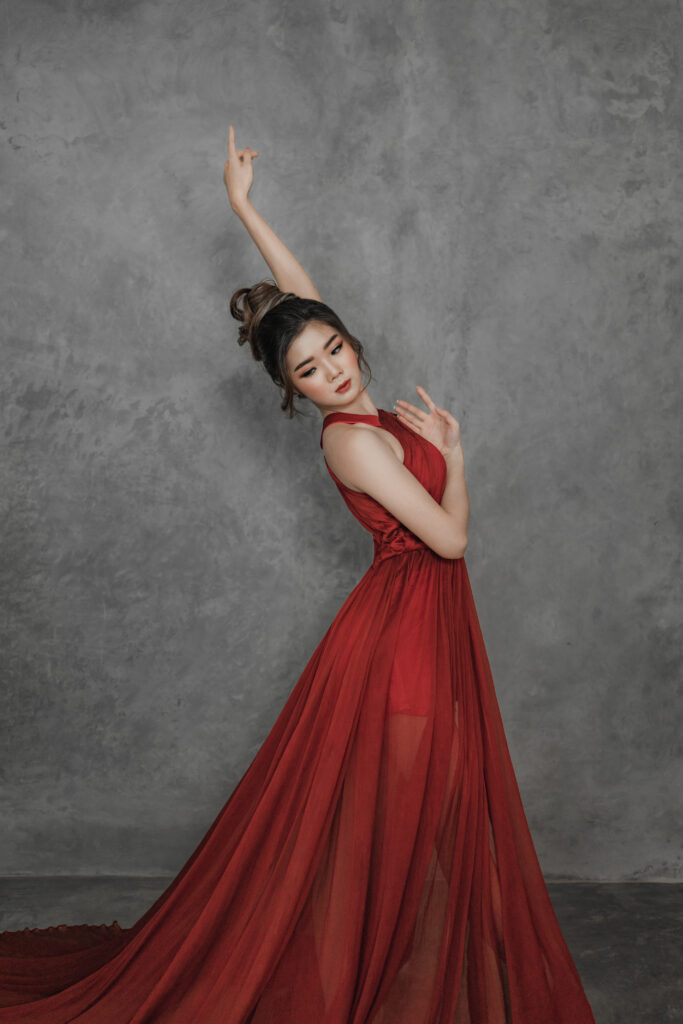 What designer do you like for ballet costumes?
"Yulen by Yuliana Tanadi is my favorite designer located in my hometown. Her dresses are feminine and flowy and they make me feel effortless and comfortable", says Olivia.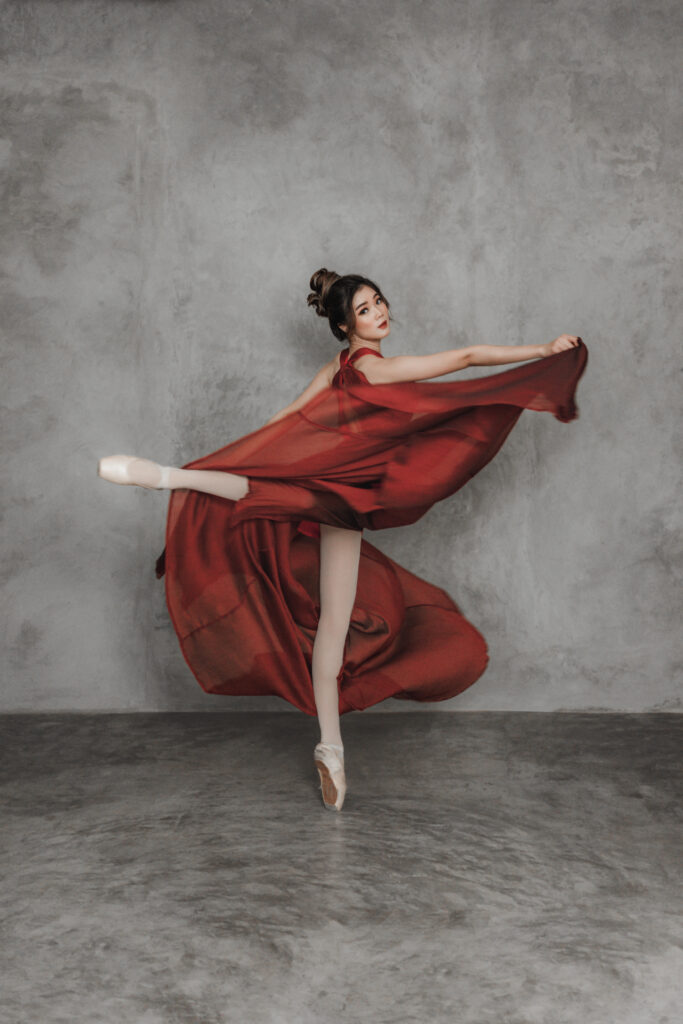 "My favorite role to play as a ballerina is the traditional Indonesian love story about Rama and Shinta. We use a traditional costume like batik (a traditional Indonesian cloth) in ballet dance."
Ramayana ballet tells the heroic story of Prince Rama and his wife Shinta. The performance is spectacular: a live orchestra accompanies the meticulously choreographed scenes of fire acrobats and ballet dancers. The legend comes to life in an epic performance where dance, drama, and music unite on stage while you sit under the stars with your eyes set on the epic dancers in their dazzling costumes.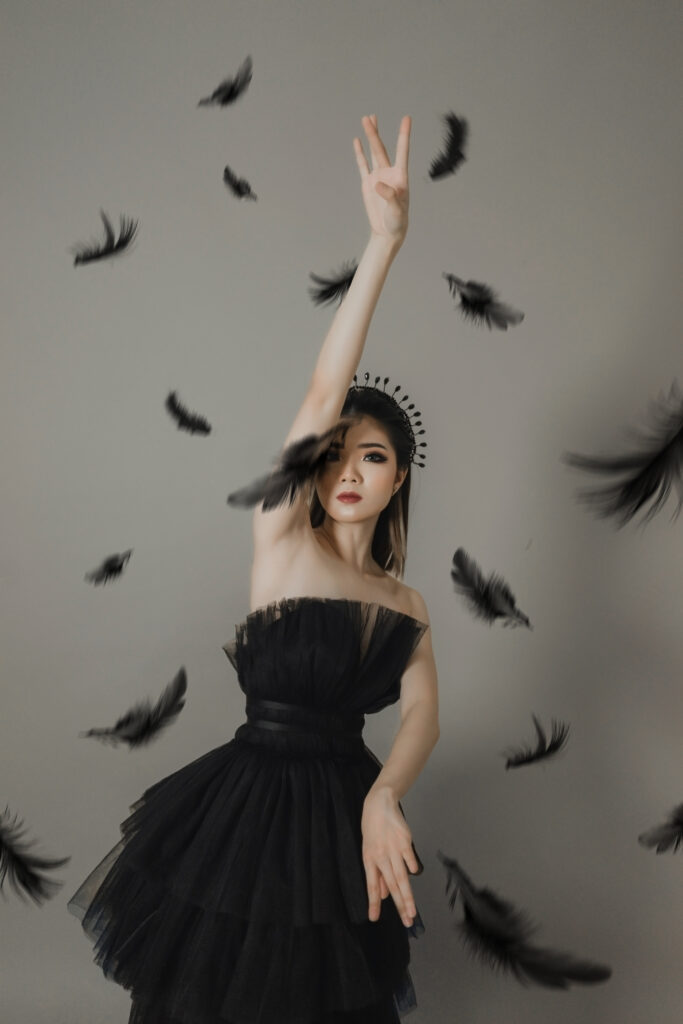 Is there a role that you haven't played yet but have been daydreaming about for a while?
"I dream of playing Giselle", says Olivia.
The story of Giselle represents a romantic tale of betrayal and innocent love between a nobleman and a shy, delicate peasant girl, Giselle. It thrills you with a timeless story: a mysterious man named Loys – Count Albrecht – visits Giselle's village and seduces her. When the secret is revealed and Giselle finds out who Loys is, she so devastated by the treachery that she dances herself to death. When the remorseful Albrecht visits Giselle's grave, he is pursued by the spirit world in an attempt to dance him to death. In an act of forgiveness, Giselle saves his soul.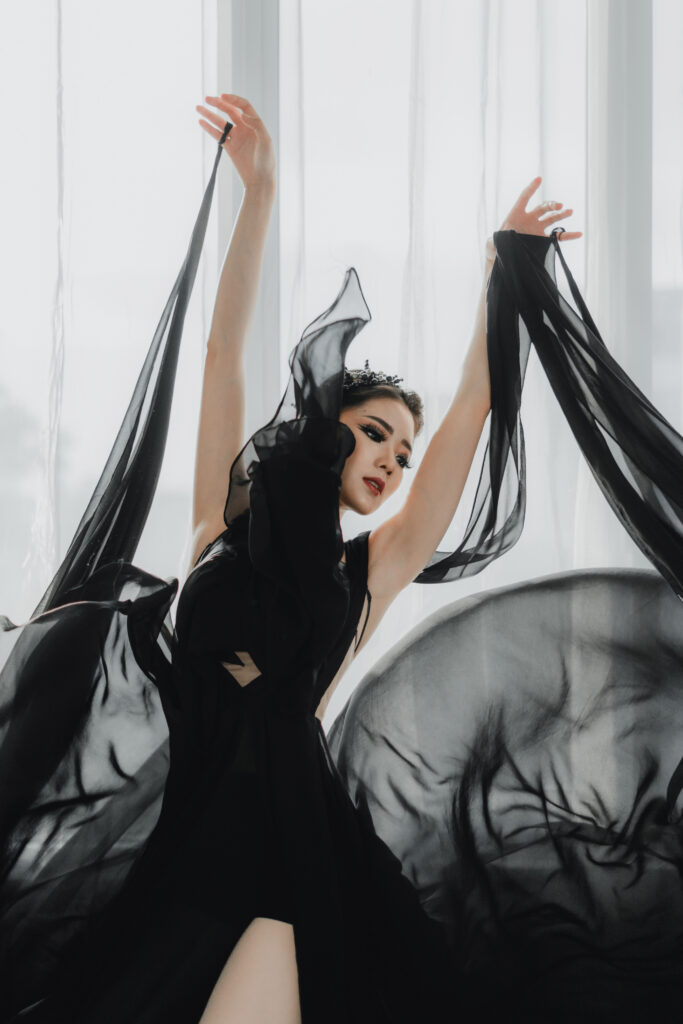 Music is what connects a ballerina's soul with the story portrayed on stage during a performance. You transpose yourself with the music matching its tempo to the ballet step. While the mechanical side of dancing is in perfectly executed steps, filled with lightness and control that are more like floating around the stage, the emotional side is what triggers responses from the audience.
What is your favorite composer whose music inspires you to dance?
"Antonio Vivaldi and Jean Sibelius are my favorite composers", says Olivia.
What advice would you give to young girls who want to become ballerinas?
"To young girls who want to become ballerinas: Just keep on practicing because ballet will test your strength, endurance, and skill, but the reward will be unmeasurable. Your routine today will become your warm-up one day", says Olivia.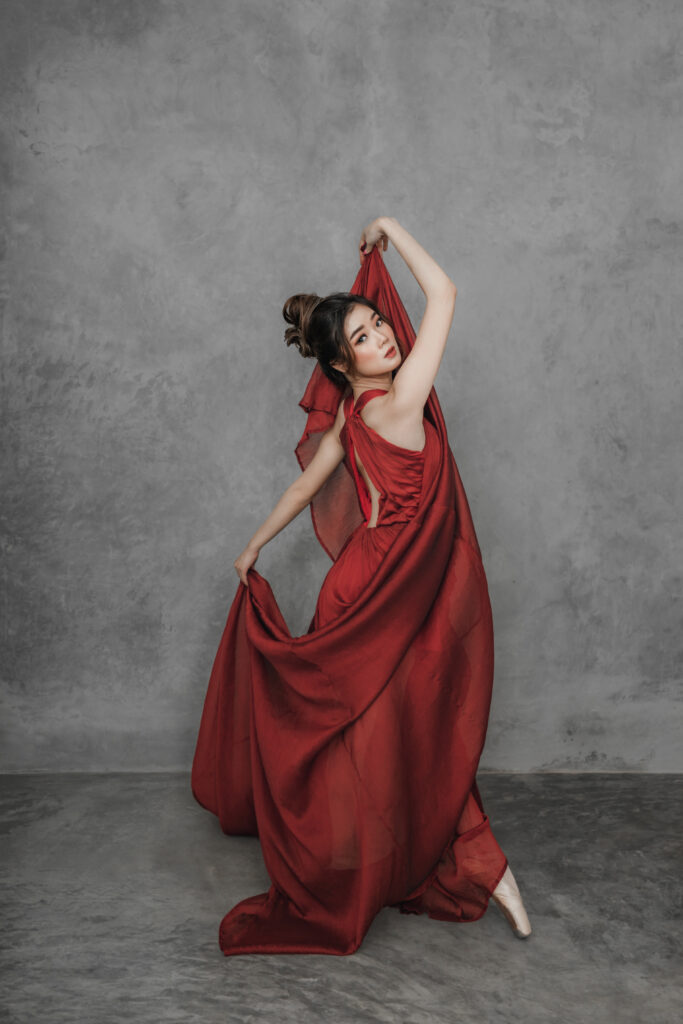 Ballerinas have the power to transport you into a different world that awakens new feelings. Watching ballerinas perform brings a specter of new colors and emotional amalgam that conquers you entirely. Your reaction in the audience, your appreciation is their biggest reward.